How would you love to see this historic property transformed?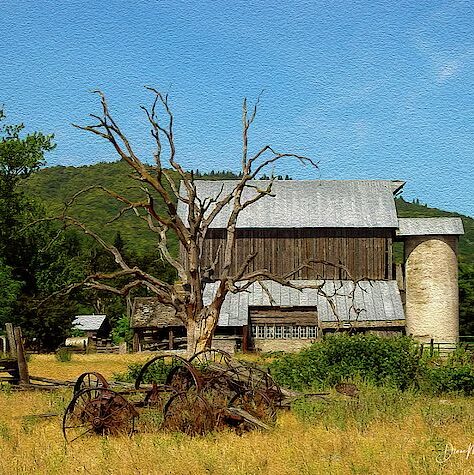 We were fortunate to become the new owners of the iconic roughly 140 acre Billings Ranch. Being a short 3 minute drive from downtown lends to endless opportunities.  Nestled alongside the foothills of Ashland city limits, the current ranch is a unique piece of property in Southern Oregon.
And, it has endless potential… from a community organized working ranch to an event and venue center and countless other options.
This is where we need your help! We are reaching out to the community for feedback and input on how to best develop the property for optimal usage. We are excited to work with the community on this project.  Here's your chance to submit your ideas… and if they are unique and dreamy enough… you have a high chance of winning some cash for your creativity!
Prizes will be awarded based on the following:
First 3 submissions receive $200 regardless!
The first 3 submissions meeting the below 6 criteria will automatically receive $200 (only one submission per household and if a submission is believed to be a duplicate or close to a duplicate, it will be disqualified. Play fair. 🙂 
If there are 10 or more submissions
1st Place: $2,500
2nd Place: $1,000
3rd Place: $500
Eligibility Requirements
Below are the key areas submittals will be scored on.
Sustainability

Is the proposal you submitted a sustainable business model long term? Meaning, is there a reasonable path to profitability and cash positive revenue within the next 1-5 years? As much as we like to dream, workers still need a paycheck as that pays the bills and puts food on the table! You can provide as much or as little details regarding the finances as you see fit.  (10 points)
Capital

Where is the money coming from and how much (roughly) is it going to cost to implement? Is the money expected to come from our business savings? If so, that won't go very far! Get creative, does your proposal utilize outside investors, donors, volunteers, community fundraising…? What would inspire people to rally behind something truly beneficial for the community! (10 points)
Uniqueness

Is your idea crazy, wild… or on the edge of impossible!? Great!  That's what we want! Dream big! And, be sure to check with county and state guidelines as to the feasibility. Or if it is a crazy unique idea, is it possible to implement via a conditional use permit?  Also, be sure to comment on what types of roadblocks your idea may encounter and what measures can you suggest.  Sometimes the difference between a crazy idea and a huge success is only a few degrees!  (10 points)
WOW Factor

While this ties into uniqueness a bit, it really put emphasis as to something big and bold (or small and clever)! Either way, we really want to see you thinking bold and outside of the box! After all, Disney and going to the moon wasn't created by thinking small! (10 points)
Clarity of Plan

How well are you able to articulate and wrap all your ideas together in an understandable way? Your submitted proposal could be as simple as 1 page or 20. It could include pictures, images and diagrams, or you could be just fine with the written word.  Or, maybe you include a link in your document to a video you've created.  Be thinking…  will this excite our judges to be eager in reading the next sentence of your proposal…!  Or…. will they be confused and asking for that second cup of coffee…?  Presentation is key! If you can get us excited, then we can likely get the public and community excited. And, if the public can get excited, then it's a win for everyone… us, you, the community, and the future workers and team members! (15 points)
Share to Social Media

Include a screenshot in your final submission showing the date you shared this post or created your own. (10 points available and tiered depending on the date shared or posted)
A suggested caption could be (feel free to cut and paste this), "Hey Friends and Family! I am entering a competition and would love your support! There is a cash prize for the best creative idea(s) on transforming an amazing historic 140-acre piece of property located in downtown Ashland! When it's time to vote, I would love your support if you think my submission is the best! Comment "Good Luck" below and I will keep you posted when it is time!
Community votes – This will be done once all the proposals are received. (10 points)
Interested in touring the property on foot to get a better idea of the landscape? 
Tours available Saturday, January 9th from 9:00 am – 11:00 am. 
Show up dressed to walk on a farm in the winter.  1140 Jackson Road, Ashland Oregon.  Park on Jackson Road and walk up the driveway, meeting in front of the barn.
Submitting Your Idea
All submissions must be received no later than January 31st by 5:00 pm PST.
Participants must submit via a pdf or word document only sent to [email protected].
No other forms of submission will be accepted.  Any and all submitted documents become the full unrestricted intellectual property of Medella Bison Ranch, LLC.
Note: The winners of the competition will be announced and posted publicly March 15th or sooner.
Be sure to include in your submittal:
Full First and Last Name
Phone Number
Email Address
And, of course, your complete proposal with at least the above 6 criteria included!

Secondary "Brief " Contest:

For those that do not want to write up an entire proposal but feel they have a few ideas worth sharing… share away!  Feel free to simply submit whatever is rattling around in your brain via email:   [email protected]

The top 3 "abbreviated" submittals will receive $100 each.

So, if you have an idea, don't hold back!  Take 60 seconds and shoot over a quick email with your ideas.  It may just be the fastest and easiest $100 you've ever made!
Any or all of above criteria and/or rules may be amended and/or changed by the selection committee at any time for any reason.  Our intent of putting this clause in here isn't to be punitive, rather is to weed out people that may try to take advantage of the competition or some unforeseen loophole by submitting duplicates within a family, plagiarizing, etc. We know you wouldn't do that of course. And, we want to try and protect your good ideas from any potential sour apples out there!